We exist to serve our clients to develop and manufacture World beating electronic products.
Britain is renowned throughout the world for its excellence in high technology development and we are proud to have our base at the centre of the country on the Advanced Manufacturing Park locating us at the very heart of the high technology scene.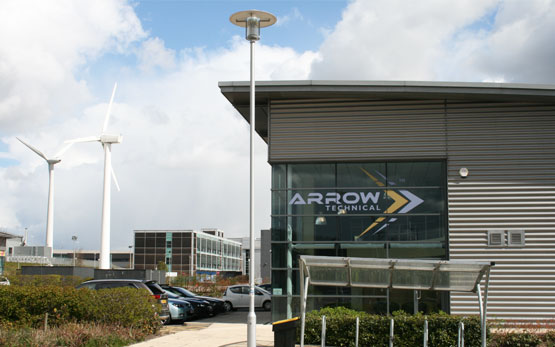 Our services range from idea generation, concept development, design of prototypes, design for manufacture and volume sub-contract manufacture.
We've been in business for more than 20 years and we have seen trends come and go but our core strength of developing a product from initial idea through to volume manufacture stands today as it did when we started. We've just got better at it.
VISION
Arrow Technical Services was born out of a need for product manufacturing companies to keep their product ranges up to date in the light of increasing technical capability and diversity.
We provide an electronics development facility second to none through which we develop leading edge products for our clients and get them into volume manufacture.
Whatever obstacles stand in the way, we overcome them.
MISSION
To provide a technical resource better than our clients can provide for themselves.
To attract and develop the brightest talent.
To develop methods and systems which harness our creative talent to develop leading edge electronic products, fit for purpose and best in class.
To be the place our clients aspire to get their next products developed.
Meet the team
I've always been interested in electronics from an early age.  My great uncle used to buy radio kits for me when I was about 8 and I never looked back
Clive Sinclair was an inspiration. I built pocket radios and amplifiers.  At the age of 10, I was the only kid (or teacher) at school with a digital calculator – which I had built from a kit.  They didn't let me use it though – they said it was cheating!
Later, in my teens I designed and built a metal detector which worked really well though I never found anything of value.  I enjoyed designing more than using my gadgets.
At 17, mine was one of the few cars to have electronic ignition – again which I designed and built mainly out of curiosity – and that made my points and plugs last much longer than before and kept an old car running reliably when most didn't.
I did Physics at University and spent a year or so at Guy's Hospital building electronic diagnostic equipment for pioneering medical research.  Whilst there I also learned about the power of microcomputers.
Sinclair again provided my early computers, ZX80, ZX81, Spectrum, QL and that's where I really learned to combine software and hardware to provide a step change in the capability of the products I designed.
My professional career was all electronic based, developing world class products for the 2 firms I worked for over 10 years.  Designing some engine sensors for The Space Shuttle was probably my proudest professional achievement.
I then started Arrow Technical with nothing but a desire to do a great job and encourage others to do the same. I'm proud of what we've achieved thus far but there's so much more to do and learn.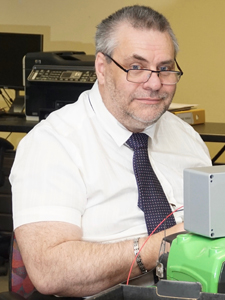 Paul
Production Supervisor
I had a keen interest in electronics in physics at school. From there I made the decision to take a 'City & guilds' course in electronics servicing.
I then had the opportunity to progress into doing an electronics manufacturing course with the 'marine association'. After my formal training I noticed Arrow was the perfect place to harness the skills I had acquired and as a result I am currently employed with them.
I still continue to build my skills as I have just completed a Lean manufacturing course and plan to do furthermore in the future.
I have always been interested in engineering. Having picked up a good grasp of how the mechanical side of engineering works through building functioning models etc. I was left scratching my head at the black magic often referred to as electronics. Not being the kind of person that can just accept something works led me to do an A-Level in Electronics and haven't looked back. I went on to do a Degree in Electronics, worked for the Nuclear Industry and I have been involved in microprocessor based industrial automation for a large part of my career.
Away from work I enjoy modifying cars. I have a supercharged project at the minute and I've designed the engine management system so I can quickly change the ECU maps for optimising performance.
I think electronics and a curiosity about how things work and how they can be improved has always been in my blood.  Now I enjoy running the Design Department and encouraging the other engineers to push our capabilities to the limit.  Electronics is advancing so fast these days and it's great to ride the wave and get paid to do it.
I was first interested in electronics at school whilst doing a project to design and construct an electronic 'message board'.
In my spare time I also fixed games consoles. I really enjoyed the sense of satisfaction from repairing something that otherwise would be scrapped.
After School I took the decision to further my knowledge and went to study a PEO in Electrical & Electronics at college. I then went onto employment with Arrow Technical and have now completed my intermediate and advanced apprenticeship in Electronic & Electrical Engineering operations.
Its a rapidly changing environment and we all have to work had to keep up. However, that's the challenge and that's what keeps it enjoyable and satisfying.
I was introduced to electronics by my grandfather at about the age of 10.  He bought me projects to build.  That got me started.
At school I did a GCSE in electronics and made an electronic dice which was my first self designed and built project.
At university, I did a degree in Electronics with Satellite Technology.  Even now I download telemetry from passing satellites as a hobby.
I have worked for NXP, the computer chip manufacturer where I was involved in developing computer vision based products on ARM chips sets.
I have also developed a java engine to work on a mobile phone processor, an RTOS kernel and an Optimised Ahead of Time Interpreter.
I love using electronics to make people's lives better.
Having always wondered what made everyday things work I looked into electronics and was amazed at how components so small make such big things happen.
Since being employed with Arrow Technical I have gone onto complete an intermediate and advanced apprenticeship in Electronic & Electrical engineering operations. 
Every component we use is getting smaller and smaller and its a real challenge to work out how to handle them and manufacture products in large numbers. However, there's always a way and its extremely satisfying knowing that we can achieve things that many companies cannot.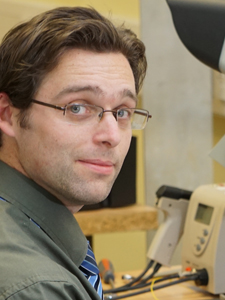 It's a fantastic feeling seeing your designs spring in to life.  It can also be really annoying if the opposite happens…
I am more of a petrol head at heart, driving what can be considered a heavily modified Toyota Celica GT with a Camry 3-litre V6 engine and full WRC livery to name some. A passion for electronics was born out of originally modifying a Daewoo Nexia to use a Vauxhall Ecotec engine, starting with the intricacies of rewiring such a project.
Enthusiasm for my cars is the reason I studied Automotive Electronics at university which led to a Bachelor degree for which I designed a CAN / LIN bus gateway, again car related, using a SoC device for the final year project. Although not specifically in an automotive role. I now enjoy seeing my passion direct my career and I do get involved in the odd automotive project from time to time.
Some of my many personal hobby projects include the design and build of a trip computer for my Celica, as well as modifying a Mk2 Astra GTE LCD dashboard to work in my ( second ) Nexia project.
I am also an active member of the Institute of Advanced Motorists and enjoy attending Skills Days whenever possible. These have included full days of skid training on special oil-coated skid pans and Advanced Cornering Techniques on professional racing circuits.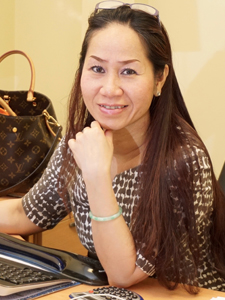 I love working at Arrow Technical and carrying out the day to day admin tasks required to keep the business running. I look forward to hopefully working with you in the future.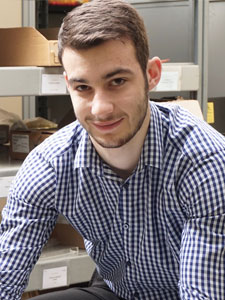 Michael
Production Apprentice
While at school I studied physics and in particular the Electronic & Electrical sections the most.
On finishing school I managed to get employment with Arrow Technical on an apprenticeship scheme. As a result I am now well into an advanced apprenticeship in Electronic & Electrical Engineering Operations and enjoying it thoroughly.  Its great to have a job which I am so interested in and seeing the role I play in getting products working and delivered to our customers is extremely satisfying.